BIOGRAPHY in English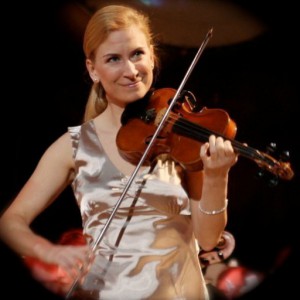 I started my violin studies with the Suzuki-method at the age of five at the Kauniainen Music School in Finland. After graduating from the Sibelius Music High School, I entered the Helsinki Conservatory. After five years studies in the class of professor Olga Parhomenko, I finished the conservatory with Bachelor of Arts Degree. During my last year, I started the pedagogical studies which led me next year as an exchange student to The Royal Danish Academy of Music in Copenhagen, Denmark.
After my exchange year, I applied to the Academy and continued my studies with Peder Elbæk. During the last year, I was again studying as an exchange student at The University of Arts in Berlin, Germany. With the guidance of my teachers: Associate Professor Marianne Boettcher, Professor Elbæk and Professor Tim Fredriksen, I received The Masters Degree 2003.
Since I officially finished my studies, I have worked as a freelance violinist and a teacher in Denmark and Southern Sweden. I mostly play in the following orchestras: The Danish National Symphony Orchestra (Radio), The Danish National Chamber Orchestra, The Copenhagen Philharmonic Orchestra, The Royal Danish Opera Orchestra and the Malmö Symphony Orchestra. I have been teaching since 1995, and between the years 2012-2016, I was working as a violin teacher and a string orchestra conductor in Ballerup Music School.
Besides playing in orchestras since I was seven, I have been a member of various Chamber Orchestras, like Copenhagen Oratorio Strings, and ensembles like Vedbæk Church's Chamber  Ensemble (now called as Rudersdal Barok Ensemble) and  Tolkien Ensemble . I am also a member of Trio Gimelia. I have had pleasure to perform on stage as a soloist or a chamber musician e.g. in The Tivoli´s Concert Hall, The New Danish Radio Concert Hall, The Black Diamond Library Hall, Finish-Danish Institute, Thy Chamber Music Festival, The Round Tower in Denmark. In Gewandhaus zu Leipzig, Berlin Tempodrom, Theater am Aegi Hamburg, Kulturpalast in Dresden, Nordic Institution in Berlin, Germany. And in The New Paviljong in Finland.
I have attended numerous master classes and orchestral courses, while and after studying in the Conservatories. To mention some: Aaron Rosand´s, Paavo Pohjola's, Vilmos Szabadi's, Konstantin Boginov´s and Vjatseslav Novikov´s Violin and Chamber Music Master Classes. It has also been a privilege to get private lessons from violinists Tim Fredriksen, Michael Malmgren and Alexandr Zapolski. I attended my first orchestral summer course at the age of eight, and have had the joy of playing with young people from all over the world e.g. with The Young Janacek Philharmonics in Italy and Germany and with Orkester Norden in the Nordic Countries.
I am interested in modern music and enjoy performing it e.g. in composers Debut Concerts and Music Festivals. I feel it is a pleasure to add at least one modern work in every chamber music concert I play in.
Biography in Finnish or in Danish